Did everyone have a good weekend? We had a glorious sunny weekend in L.A. and Saturday's dinner reminded me how I need to cook more!
This week, I'm going to do something quite different from last week's posts. I've culled images from diverse sources of a wide variety of things. What they have in common is that they are mostly handmade and that they have a cool and restrained allure. Since they're all quite varied in style I'm going to spread them out over the week in different posts, grouped according to certain affinities some have for others. Today's post is about two English artists.
Via lovely Florizelle, at le divan fumoir bohemien from a post she did earlier this year, a painting below by

Harold Harvey.

Harvey (1874-1941) was an English painter who trained at the Academie Julien and started his career in the impressionist tradition of that Paris school's famous alumni, (Pisarro, Sisley, Bonnard for example), but finished in a very distinctive and classical-but-modern vein that captures for me a particular aspect of everyday English life and character. I love the blue light in this painting, the Vermeer-esque organization of figures and furniture, the side lighting, and the clarity and crispness with which it is rendered. But it is also very English in its blend of "homeliness" and grace, the chalky earnestness of the rendering, and the casualness of the subject matter.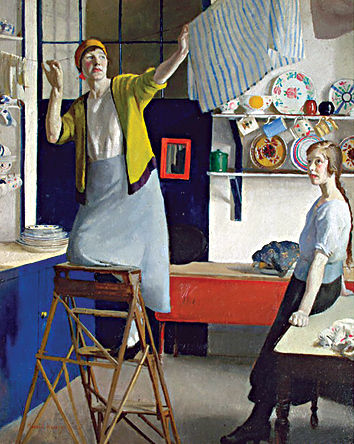 As with Mrs. Feesey's work below, it is colorful, but in a restrained way.
From the April 2010 World of Interiors,
comes
paper cut collages, and needlework in a
slightly naif style, by ninety-plus year old
Irene Feesey
made up as "she went along". Sadly I think that here is another exceedingly talented and prolific female artist (see my Mary Fedden post two weeks ago) who (very likely because of her gender) has not, in her lifetime, received much (or even sought) public recognition for what she has done.
Hers is an example of someone doing something quite sophisticated that communicates as simplicity and freshness. I think that this is really what all this week's "Pale and Interesting" ideas have in common. There is also a slight element of the unexpected in them. Which might be that simplicity, that forthrightness.
So English. So pale, yet so interesting.